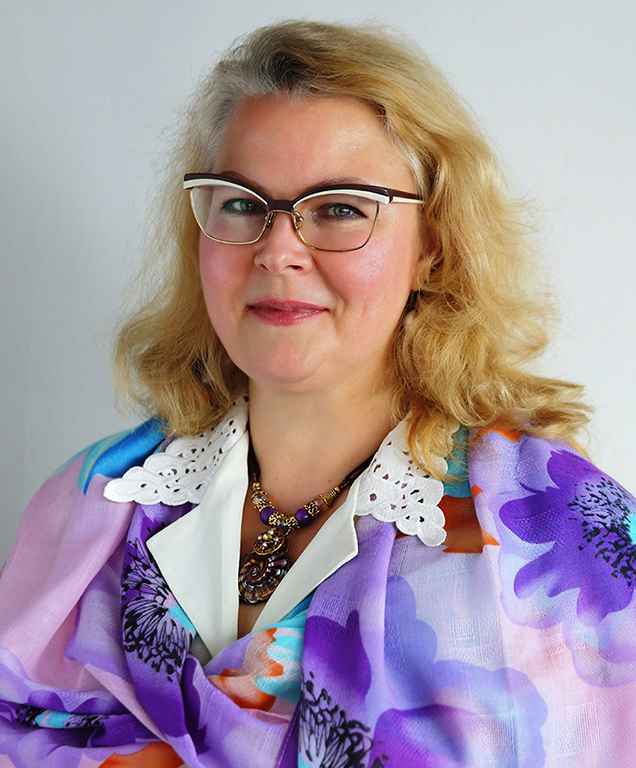 Scientific advisor and expert of the Erzia International Art Foundation.
She was born in Saransk, Mordovian ASSR in 1964. She graduated from the Faculty of Foreign Languages at Mordovian State University named after N.P. Ogarev in Saransk in 1986.
In 1996, she graduated from the Faculty of History and Theory of Art at the St. Petersburg State Academic Institute of Painting, Sculpture and Architecture named after I.E. Repin. Her specialization is art historian, art critic, and expert on the works of Stepan Erzia. Her thesis, which was dedicated to the Italo-French period of Erzia work (1900-1915), received an "excellent" grade and was recommended by the State Examination Commission of the Academy for separate publication.
From 1986 to 2007, Elena Butrova worked at the Mordovian Republican Museum of Fine Arts named after Stepan Erzia as a scientific researcher, head of department, and later as deputy director for scientific work. Her main area of research was Erzia's sculpture. She is the author of monographic articles in various publications, including albums "Sculptor Erzia" (Saransk, 2006), "Stepan Erzia" (Saransk, 2006), archival documents section and introductory article in the publication "Sculptor Erzia: Recognition and Tragedy" (2006, Saransk), compiler and author of an article "Materials of the International Conference dedicated to the 130th anniversary of S.D. Erzia" (2006, Saransk), catalogue of the exhibition of Erzia's works at the State Tretyakov Gallery (2001), introductory articles to albums about Erzia in Spanish (2011) and Italian (2015).
Elena Butrova is an organizer and curator of many exhibition projects implemented at the Mordovian Republican Museum of Fine Arts named after Stepan Erzia, as well as in other cities of Russia. She is a participant and organizer of a number of scientific conferences, including international ones. She has prepared and conducted excursions for high-ranking guests, including Russian President Vladimir Putin, Finnish President Tarja Halonen, Hungarian Prime Minister Ferenc Gyurcsány, ambassadors of France, Hungary, Estonia, State Duma deputy Sergei Mironov, Moscow Mayor Yuri Luzhkov, Russian Minister of Education Andrei Fursenko, Russian Minister of Culture Mikhail Shvydkoy, poet Bella Akhmadulina, and others.
In 2001, Elena Butrova contributed to the acquisition of Erzia's work "Grief" (marble, 1918) for the museum's collection on the occasion of Erzia's 125th anniversary.
From 2006 to 2008, as a leading specialist in Erzia's work, Elena Butrova participated in the attribution of Erzia's statue "John the Baptist" in Italy (Christ the King Church in Fecchano) and other Italian works by the sculptor.
Since 2005, Elena Butrova has been advising employees of American and European auction houses (including Sotheby's) before selling Erzia's works. She has conducted over 10 expert assessments and attributions.
Since 2007, Elena Butrova has been working as a leading scientific researcher and a vice-president at the Erzia International Art Foundation in Moscow. She is the author and curator of all the Foundation projects in Russia and abroad, compiler, chief editor, and author of articles in numerous publications about the Foundation and Erzia, including in Spanish, English, and Italian.
She is a member of the Union of Artists of Russia since 1992 and a member of the International Association of Fine Arts AIAP UNESCO.